Two Roads – Which One Is For You?
Posted on: January 2, 2021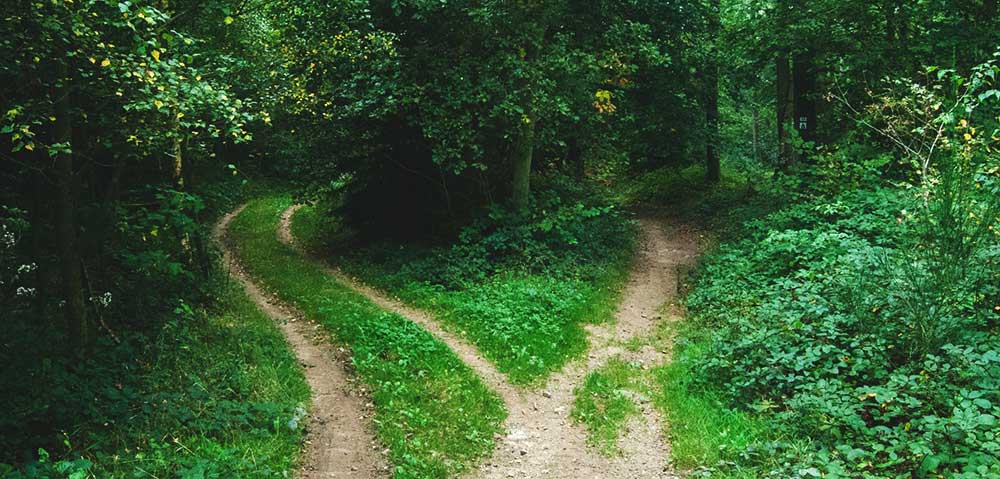 "Two roads diverged in a yellow wood,

And sorry I could not travel both

And be one traveler, long I stood

And looked down one as far as I could

To where it bent in the undergrowth."

– Robert Frost, from "The Road Not Taken"
Are you at this juncture? Wow! The view must be awesome overlooking into your GIS future, but we don't envy you.
The decision you are trying to make will influence your utility's GIS for years to come with all the superpowers that the Utility Network could bestow upon you. Decisions are always difficult because of the alternate realities that could happen if you went one way instead of the other.
We have a couple of decision trees that can help you pick what is best suited for your agency.  Make sure you validate your requirements against both the trees. These decision trees are the first step towards validating your need for a utility network.
 The first tree shown below is from Esri and considers your current functional needs such as tracing and editing.
The second tree shown below is from DCSE; it adds to the first, and looks at your future needs, as well as your enterprise needs (such as long versioning).
As you see in both these decision trees, if you answered *YES* in any of the cases, you are pointed towards a Utility Network or the ArcGIS Enterprise Data Management Solution. The ArcGIS Enterprise Data Management solution consists of the templates and infrastructure for enterprise GIS for Utility Network.
If end up with a *NO*, you are looking at the ArcGIS Online Data Management Solution. This has enough functionality to support a small utility on ArcGIS Online on desktop and in the field.
If you have questions about these decision trees, contact us and we can provide you more information or link to our webinars.
So, what result have you seen after you traveled through these decision trees? We are interested in hearing from you, keep us posted.
Happy Decision Making,
The Network Nerds at DCSE
Have any thoughts and/or comments on this post? Feel free to share by posting below.
DCSE Inc.
23461 S. Pointe Drive
Suite 300
Laguna Hills, CA 92653
CALL (949) 465-3400
FAX (949) 586-8141